Luxury Apartments in El Paso | Westside Luxury Apartment Complex
If you're on the hunt for a new place to live, odds are your mind is swirling with countless ideas. Perhaps you've scoured the internet for apartment inspiration, choosing amenities that would make your next residence truly perfect. Caprock Apartments was designed to be the epitome of luxury in the El Paso area. It may seem too good to be true, but we assure you, everything you see comes standard! From beautifully kept grounds and landscaping to amenities fit for 5-Star beachfront hotels, Caprock Apartments truly encapsulates all the luxury you're looking for. Best of all, our luxury apartments are incredibly affordable.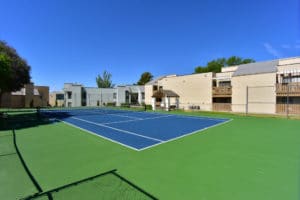 Luxury is Our Standard
Whether this is your first time searching for apartments or you've had your fair share of moves, one thing remains true: you want to find the best of the best. You are searching for your next home, after all. Instead of settling for a subpar complex, why not move into a truly unique place? Our apartment complex is both luxurious and affordable. All too often, the term "luxurious" tends to illicit high price points, but Caprock Apartments has made it a priority to provide high-quality amenities at affordable rates.
An Oasis in El Paso's Westside
Being located in El Paso's westside, Caprock Apartments gives residents the ability to be in the middle of all the excitement. We're only a few moments away from I-10 but far enough away that the sounds from the freeway won't bother you. Let's take a closer look at the 296 units that make up the Caprock Apartments complex. We offer one- and two-bedroom apartment units of varying square footage, from 561 square feet to 1,116 square feet. In addition to standard apartment floor plans, we also offer lofts and townhomes.
You will also be located to some of the best shopping centers in El Paso! Caprock Apartments is nearby the widest variety of grocery stores in the city. You also have access to great food, but local and chain restaurants, so there will always be something new to eat!
What To Expect from Our Luxury Apartments
We designed Caprock Apartments to be as convenient and affordable as it is luxurious. We want our residents to feel truly at home when they move in. It's no surprise that so many of our residents have been with us for years and years! Our units provide large, ample spaces and incredible amenities that make us stand high above other apartment complexes in the area.
Unlike other modern apartments (which are too cramped or skimp on closet space), every Caprock unit has abundant storage space, including oversized closets. Many units feature full-fledged, walk-in closets, so you'll never run out of storage space!
Take a look at a few of our incredible amenities below:
24/7 on-site laundry facilities (Some units offer washer/dryer hookups)
Refrigerated air conditioning in every unit
In-unit WiFi for only $25 per month
Free digital cable package (featuring 15 HBO channels and ten Showtime® channels) included for all residents
Well-equipped exercise facility
Much, much more!
Staying Active at Caprock Apartments
In addition to Caprock's beautiful landscaping and scenery, our complex offers many options for our residents to stay active. You can enjoy the well-equipped exercise facility; two pools; and tennis, racquetball, or sand volleyball courts. And after a vigorous workout or game, residents can unwind in the clubhouse or in the hot tub. We also offer complimentary WiFi in the pool areas, making it easy to stay connected.
Caprock Apartments may seem more like a high-end beach resort than an apartment complex, but that's just the luxury of it! With beautiful surroundings, desirable location, a range of enjoyable activities on-site, plus abundant convenience, our luxury apartments truly provide residents the best of the best! We're proud to offer such great amenities to our residents, and we're ready to welcome you into the Caprock community!