El Paso's Luxury Apartment Buildings
Join Us At Caprock Apartments, Today!
Caprock Apartments is El Paso's choice for luxury apartment buildings on the West Side of town. We're proud of our highly reviewed standards and the exquisite rooms we offer. We have held a 5-star rating for years due to our top-rated apartment units and high-end amenities. With 296 units to suit the needs of every resident, you've found the best place to live in El Paso. Our affordable rates and excellent location make us the perfect choice for students and military personnel. We offer spacious one- and two-bedroom apartments for rent. So, feel free to look at our residents' reviews and give us a call today to learn more about our leasing options!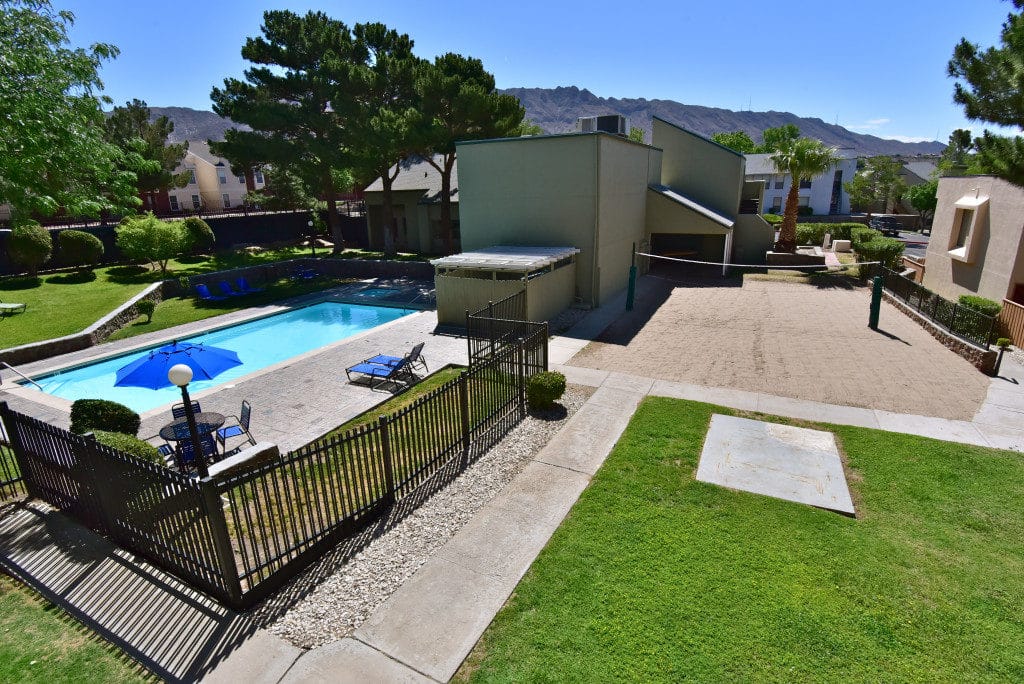 If you're looking for luxury living at an affordable price, then you've come to the right place!
Caprock apartment buildings provide anything you could ever need to live as comfortably as possible. Located in El Paso's westside, our apartments for rent are a perfect option for students, military personnel, and professionals alike. We go above and beyond to provide our residents with unbridled comfort. When it comes to finding your future residence, why settle? You deserve the best of the best; you deserve Caprock Apartments! Keep reading to learn more about what our property has to offer.
An Oasis of Apartment Buildings in the Heart of El Paso's Westside
Located in El Paso's desirable westside, Caprock Apartments offers a wide range of amenities, inside and out. Caprock Apartments has it all, from our comprehensive floor plans to our relaxing, pristinely-kept landscaping! More than an apartment complex, Caprock is a thriving living community that is welcoming and inviting. Many of our residents have lived here for years. Even those who have moved away eventually return because no other apartment complex in the Sun City can compare to Caprock! We prioritize making sure our apartment complex grounds and landscaping are well-kept and lush. This is why Caprock Apartments looks like an oasis in the middle of the desert! And, best of all, you can make this oasis your home!
Proudly Offering a Variety of Floor Plans
If you're looking for apartments for rent in the El Paso area, then you've come to the right place! Our community of 296 apartments offers six different floor plans. We have apartment buildings ranging from compact one-bedroom, one-bath apartments to spacious bi-level two-bedroom townhomes featuring a master suite with a private bath. There are many options from which you can choose. Caprock Apartments appeal to single professionals and young families alike. And our monthly rates are some of the most affordable in El Paso's westside. When you choose Caprock Apartments, you won't have to settle or cut corners in order to live in the lap of luxury.
Conveniently Located Apartment Buildings
The Caprock Apartments are located in the heart of the action in El Paso's sought-after westside area. The complex features free parking for residents and easy access to I-10 and popular restaurants, shopping, and an abundance of outdoor activities. Military personnel stationed at Fort Bliss and traveling professionals frequently choose our furnished apartments and corporate housing options. Our guest and corporate accommodations represent a spacious alternative to cramped hotel rooms. They are fully furnished with kitchens equipped with utensils and dishes. As such, the cost of a Caprock Apartment is often less than the cost of a hotel.
Become Part of an Established Community
Located in a tranquil area, the Caprock Apartments complex is an established property with mature landscaping and broad grassy areas. Many of Caprock Apartments' residents have lived there for many years in a close-knit community. Many employees have worked with the company long-term as well and are committed to providing top-quality service. Residents enjoy a prompt response to their needs and requests.
Apartment Buildings With Excellent Service and Amenities
While the apartment complex itself is quiet and peaceful, Caprock Apartments are also located within easy access to many fun and desirable amenities. Within the complex, residents can enjoy two swimming pools, a jacuzzi, tennis, racquetball, and sand volleyball courts, as well as a clubhouse and a fitness center. An on-site laundry eliminates the need to lug baskets of clothes and detergent to a laundromat. Digital cable, which includes 15 HBO channels and 10 Showtime® channels, is provided free for all residents.
Make Caprock Your Home, Today!
The Caprock Apartments are truly a sight to behold. There are many common negative tropes that people tend to conjure up it comes to apartment buildings. Perhaps the walls are too thin, or management doesn't care for the residents at all. The Caprock Apartments team is fully committed to creating an environment that's both positive and fruitful for residents. We will tend to the issue quickly and succinctly no matter what you require. Our apartment buildings were built with optimal comfort for every resident in mind. It's no surprise that so many of our past and current residents continuously sing the praises of Caprock Apartments. We offer much more than apartments for rent in El Paso. We offer comfort and stability.