Binge-Worthy Shows and Movie Marathons from HBO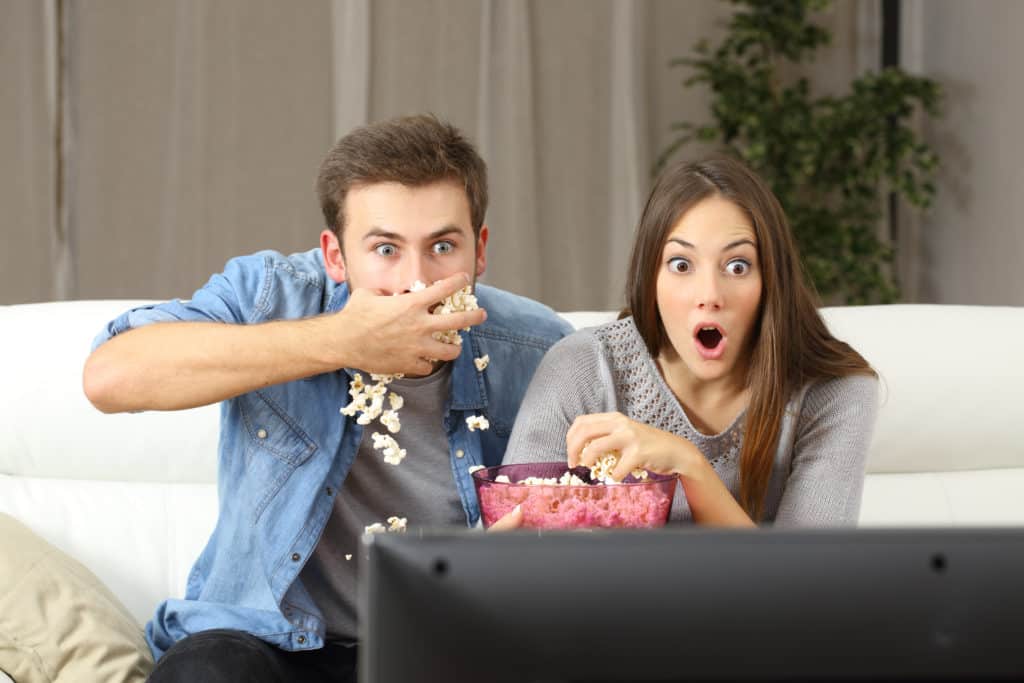 At Caprock Apartments, we go above and beyond for our residents. This is why every unit comes with a free cable package included. With 15 HBO channels and ten Showtime® channels, this cable package is a great option for fun stuff to watch. This is the time to finally catch up on shows and watch all those movies you've been putting off for years. Since our apartments come with internet services for the low price of $25 per month, it's easier than ever before to binge to your heart's content! We've compiled a list of great options for you to entertain yourself during this time. 
Shows
HBO has long held the title of "content creation giant." And, even though Netflix has been hot on HBO's trail for the past few years, there's no denying the absolute quality of HBO's content. Below, we've compiled a few shows and movies you can watch during our current quarantine. Who knows, maybe you'll find a new favorite show!
Westworld
This is HBO's new heavy hitter. After Game of Thrones wrapped up with the culmination of season 8, viewers were wonder what the next big show from HBO would be. Westworld, whose first season aired from 2016 to 2017, already set the groundwork for the next HBO show everyone will be talking about for years to come. Unlike the original film from 1973, the HBO adaptation has more time to breathe. The mysteries are deeper, the characters are more fleshed out, and the overall story is all-the-more enjoyable. The twists and turns in Season 1 make this a show to be reckoned with and with a second season already out and a third one currently airing, now's the best time to catch up on this great new show! 
Big Little Lies
Big Little Lies has an all-star cast (Meryl Streep, Laura Dern, Reese Witherspoon, and Nicole Kidman) and a story that's just as intriguing and enjoyable as you'd expect. With two seasons currently out, it's no surprise this show is one that everyone's talking about. 
Barry
Bill Hader and Henry Winkler join forces in this wacky, off-beat dark comedy/drama about a hitman, played by Hader, who follows his "hit" into an acting class where Hader is eventually welcomed into the acting community. If that premise sounds odd, then you're in for a surprise! As one of the show's creators and the main star, Bill Hader lets his acting chops shine through in this wholly original comedy. Hader is much more than his character "Stefon" from SNL, and Barry proves that he's one creator to watch!
Silicon Valley
From "King of the Hill" creator Mike Judge comes Silicon Valley, a comedic take on the titular location that's been at the forefront of our digital revolution. The cast is full of incredibly hilarious actors who you'll more than likely recognize. Thomas Middleditch, Kumail Nanjiani, Zach Woods, Martin Starr, and T.J. Miller star in this ensemble comedy that's as sharp and witty as it is irreverent and hilarious. The entire series spans four seasons, making it a quick and quintessential watch for those who look for wit in their comedies.
Movies
HBO has much more than just great shows. In fact, its film catalog is quite extensive! We've compiled a few movie marathons for you to enjoy, below.
Alien Series (Alien, Aliens, Alien³)
One of the best ways to experience escapism is by watching classic sci-fi films. Although the Alien series isn't what one would consider "relaxing," they are classics that defined the genre. Ridley Scott's Alien was released in 1979 and it immediately took the world by storm with its original concept, instantly iconic alien design, and the career-defying role of Sigourney Weaver as Ellen Ripley. 
Aliens was released almost a decade later, in 1986, and it features a wholly different concept in the same world set up in its predecessor. As Director James Cameron's next film after 1984's The Terminator, Aliens established Cameron as a strong, unparalleled force in cinema. 
Although the third film in the trilogy, Alien³, falls very short from the first two films, it's an interesting study in studio interference. In fact, Alien³ was famed director David Fincher's first full-length film! That's right, the man who would go on to helm such classics as Fight Club, Se7en, Zodiac, and The Social Network got his start directing the third film in the Alien universe. You can close out this marathon after watching Aliens but you could also watch Alien³ as a study in filmmaking and what can go wrong when producing a sequel. 
Musical Marathon (A Star is Born, Les Miserables, Yesterday)
Who doesn't love musicals? There's been a handful of great musicals that have come out in recent years and, lucky for you, some of the best are on HBO! A Star is Born, starring Lady Gaga and Bradley Cooper, was one of the biggest hits in cinemas and it had one of the most popular songs of the year with "In the Shallows." Whether you've seen the other versions of this age-old tale, it's always fun to see this era's interpretation of the source material, and Lady Gaga turns in an amazing performance.
Next up is perhaps the most popular musical of the last decade. 2012's Les Miserables, much like A Star is Born, is a story that gets remade every decade or so. This version, however, may just be the definitive edition. Director Tom Hooper had the actors sing live on set which resulted in more realistic, believable performances. Hugh Jackman and Anne Hathaway turn in stellar performances, with the latter winning a Best Supporting Oscar for her portrayal of Fantine. Her rendition of "I Dreamed a Dream" will surely bring a tear to your eye!
And we close out the musical marathon with a more lighthearted film. After the emotional turmoil of A Star is Born and Les Miserables, it's necessary to cleanse the palette with Yesterday, a film with a wholly unique premise. After a strange incident, struggling musician Jack Malik becomes the only person who remembers the Beatles. So, he goes on to gain superstardom by performing classic songs by the Fab Four. We won't go into spoilers but this film is a fun watch for the whole family!
Escape from Reality at Caprock Apartments
If you're ready to have a great time watching some excellent shows and movies, then let's get the popcorn! At Caprock Apartments, we always go above and beyond for our tenants. If you'd like to learn more about what we have to offer, then give us a call!