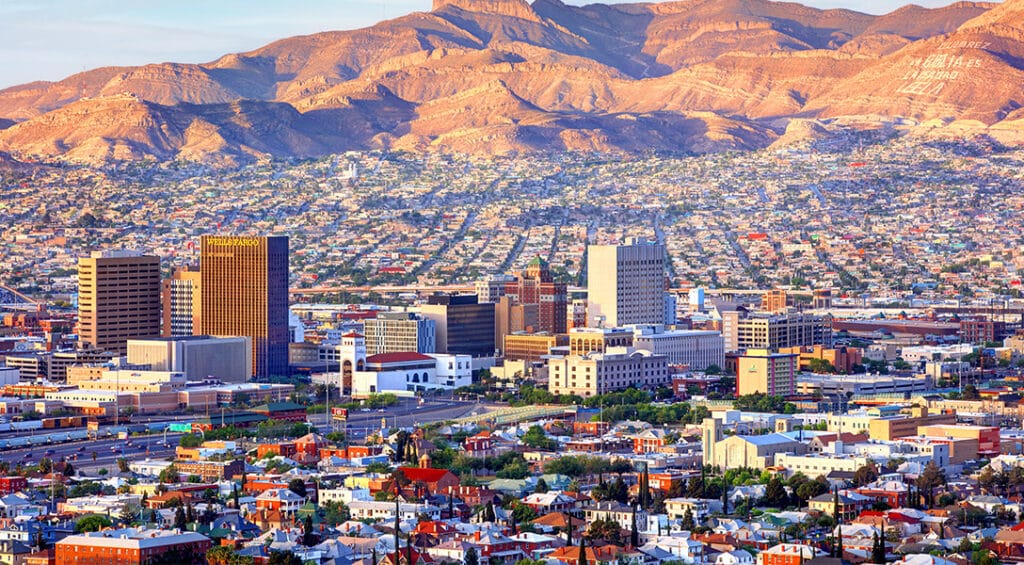 If you're seeking a vibrant city with low crime rates and affordable housing, El Paso is tailor-made for you. The Sun City boasts exceptional weather, ample outdoor activities, and a wallet-friendly cost of living, making it a standout destination in Texas.
If you're on the fence about whether El Paso is the right fit for you, this guide is specifically crafted to help you decide.
Contained within are all the crucial details you need to consider about El Paso before finalizing your decision to make it your new home.
For those considering a move to El Paso, the reasons are aplenty:
Great Weather: Bask in the sun with El Paso's fantastic weather.
Top-Quality Education: Access excellent education opportunities.
Low Crime Rates: Enjoy a city with a commitment to safety.
Affordable Homes: Find your dream home without breaking the bank.
Low Cost of Living: Stretch your budget further in El Paso.
The Great Outdoors: Revel in the city's natural beauty and outdoor activities.
No Income Tax: Keep more of what you earn.
Wondering about El Paso's weather?
Well, you're in for a treat! With an impressive average of 297 sunny days per year—way above the national average of 205—El Paso boasts a sun-soaked climate that might just be what you're looking for.
In the winter, El Paso experiences a low of 31 degrees in January. Rainfall is minimal, averaging at 10 inches per year compared to the U.S. average of 38 inches, and the city sees a modest 3 inches of snow annually, contrasting with the national average of 28 inches.
Wondering about the safety of El Paso?
Is it a secure city for you and your loved ones? If you're considering a move to El Paso and safety is a top concern, examining the city's crime statistics can provide valuable insights. Fortunately, both the violent and property crime rates in El Paso are below the national average, making it a safer option compared to various cities nationwide.
Here are key crime statistics to consider when evaluating El Paso:
The violent crime rate in El Paso is 22.1, slightly lower than the national average of 22.7.
The property crime rate in El Paso is 30.6, also below the national average of 35.4.
In summary, El Paso stands out as a safer city, especially when compared to others of similar size across the country.
Curious about El Paso's rental prices?
The average rent for a home or apartment in El Paso, Texas, is $890. If you're considering renting as your housing choice in El Paso, take a look at this breakdown of average rental prices in the city:
For a studio apartment, the average rent is $533.
Renting a 1-bedroom home or apartment in El Paso averages around $670.
Looking for a 2-bedroom home or apartment? Expect an average rent of $803.
If you're in the market for a 3-bedroom home or apartment, the average rent is $1,122.
Seeking a bit more space with a 4-bedroom home or apartment? The average rent is $1,374.
These figures provide a snapshot of the rental landscape in El Paso, helping you make an informed decision about your housing preferences.
The Great Outdoors
If you're a fan of festivals, El Paso is the place to be. One of the most thrilling events in the city is the Sun City Craft Beer Festival, ensuring an abundance of delicious food and drinks for festival-goers.
For those moving to El Paso with family, you'll discover a plethora of family-friendly attractions. El Paso, far from being dull, boasts parks like Western Playland Amusement Park, offering a range of enjoyable activities for you and your loved ones.
Immerse yourself in the local art and culture scene; El Paso is home to numerous vibrant arts and entertainment attractions. From the El Paso Museum of History to the El Paso Museum of Art, you'll encounter an array of classic and modern works. If you have a passion for arts and culture, El Paso should certainly be on your list of places to consider moving to.
Caprock Apartment Homes
, the premier
apartment complex on the west side of El Paso
. With luxurious amenities and an affordable price point, we have everything you need for a comfortable and convenient lifestyle.
Imagine waking up in your spacious apartment, taking a dip in our sparkling pool, and relaxing in our racquetball court.
At Caprock Apartment Homes, the possibilities are endless. Don't miss out on the opportunity to make this your new home. Give us a call to schedule a tour and see for yourself all that we have to offer. We can't wait to welcome you to the Caprock community!