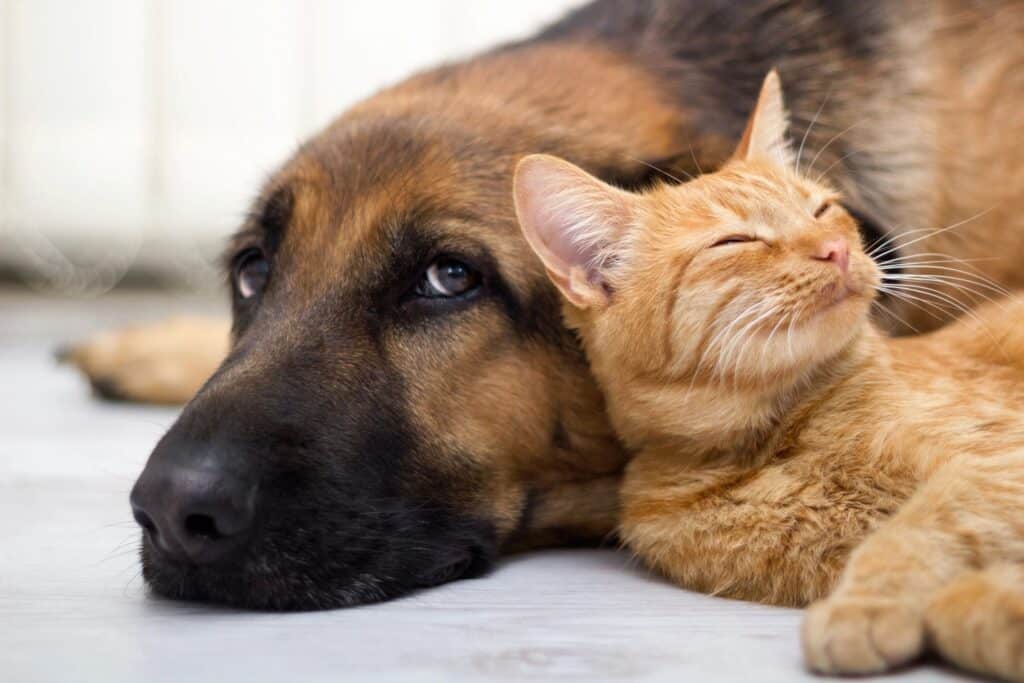 What Defines a Pet-Friendly Apartment?
Pet-friendliness varies across a spectrum. Many apartments embrace pets, though conditions differ. You could discover apartments exclusively accommodating cats (a 'cat-veat'). Some rentals limit pets to 20 pounds or less, and additional costs like monthly pet rent might apply. These norms are typical for pet-friendly apartments.
Conversely, certain apartment communities exhibit minimal breed restrictions, no weight boundaries, and even feature on-site dog parks or pet-washing stations with nominal extra fees. These pet-embracing communities go the extra mile, extending hearty welcomes to pets and often providing delightful treats. Some of these places even arrange pet-oriented events, such as pet costume parades and puppy socials.
Evaluate your preferred level of pet-friendliness in an apartment community. What pet-related features are indispensable to you? While you might not insist on an on-site dog park, convenient pet clean-up stations could be crucial. Maybe a community accommodating only small pets aligns with your needs, or perhaps you're in search of a rental that accommodates larger breeds.
Understanding Apartment Pet Restrictions in El Paso
During your hunt for a new rental, you might perceive apartment communities to be unwelcoming to your German Shepherd, but that's not always the case. Most prohibited breeds result from city or county regulations or the apartment community's insurance policy. Insurance companies often encounter dog bite claims, prompting stricter and costlier liability coverage. Restricted breeds may include:
German Shepherds
Mastiffs
Rottweilers
Akitas
Cane Corsos
Doberman Pinschers
Malamutes
Staffordshire Terriers
American Pit Bulls
Huskies
Dalmatians
Chow Chows
Presa Canarios
Boxers
Wolf Hybrids
For those with multiple pets, securing a rental that allows such arrangements can be challenging. Many apartment communities cap residents at two pets. Given limited space, this rule prevents overcrowding that could lead to apartment damage. Similar space concerns lead to weight restrictions, as larger dogs or multiple pets might require more room than standard apartment layouts offer.
Your pet might not be a conventional dog or cat; it could be an exotic creature. An iguana, ferret, or other non-traditional pet might face difficulty finding acceptance, as many apartment communities prohibit them. Understand that "exotic" extends to animals beyond dogs or cats, encompassing birds, snakes, fish, turtles, frogs, hamsters, rabbits, ferrets, and chinchillas. Attempting to sneak in an exotic pet, even within a cage or tank, would breach your lease agreement and could result in eviction.
However, service dogs and emotional support animals transcend pet restrictions. Even in apartment communities that generally forbid pets, these animals are exempt. Federal Fair Housing laws classify assistance animals separately from pets.
When embarking on your search for pet-friendly apartments, you'll need to consider aspects that might not usually be on your radar. For instance, if you're planning to bring a new puppy into the mix, be prepared for frequent outdoor breaks—even in the middle of the night. In such scenarios, a ground floor apartment might be notably more convenient compared to units on higher levels, whether that's the second, third, or even 21st floor.
The apartment's layout also holds significance. Ample space is crucial for both you and your pet, along with all the necessary items that accompany pet ownership. A designated area for your pet's bed or crate, feeding bowls, and even your cat's litter box is essential.
Material choices within the apartment are equally important. Opt for flooring like laminate, tile, or vinyl, which are more pet-friendly than carpets or hardwood. Stains on carpets and scratches on hardwood can be concerns, so if you lease an apartment with these flooring types, consider employing throw rugs in high-traffic pet areas and waterproof mats beneath bowls.
While a balcony can be an attractive feature for you, it might not hold the same appeal for your pet's safety. Cats and even dogs, though less common, could fall or squeeze through railings, risking injury or getting lost. The term "high rise syndrome" exists due to the prevalence of balcony falls among cats. However, even a fall from a second-floor balcony could harm your pet, according to PetMD. If you're in an apartment with a balcony, it's wise to keep your pet away from it. Should you desire to enjoy your morning coffee outdoors with your pet, opt for a screened-in balcony or an apartment boasting a sunroom.
During your search for pet-friendly apartments in El Paso, remember to assess the surrounding neighborhood. Is it pet-friendly? Are sidewalks easily accessible for dog walks? Are there nearby parks with designated off-leash areas? Locate the nearest veterinary office or animal hospital, and if you plan on enrolling your dog in doggie daycare, consider the convenience of its location in relation to your work route.
Navigating the Path to Discovering an Ideal Pet-Friendly Rental
When you're prepared to initiate your search for pet-friendly apartments on Apartments.com, input your city or neighborhood into the search bar on your mobile device. Beneath the search bar, you'll spot a bubble labeled "Pets." Select from the options "Dogs," "Cats," or "Both." If you're utilizing a PC, click "More" and then opt for "Dog Friendly" or "Cat Friendly" under the "Amenities" section. This will effectively narrow down the search, eliminating apartments that don't permit pets.
Once you've chosen an apartment community, navigate to the "Amenities" section upon clicking. Here, you'll find the Pet Policy detailing regulations. Should any queries arise regarding the policy, reach out directly to the property to gain a comprehensive understanding of their restrictions and prerequisites.
After identifying your perfect apartment, it's time to establish a routine with your pet. Instilling a schedule will mitigate the likelihood of accidents. Ensure your pet receives adequate exercise; boredom can lead to destructive behavior in dogs. For your feline friend's well-being, invest in a multi-level cat tower with a scratching post to deter them from scratching furniture or walls.
Bear in mind that your cat may occasionally desire privacy. While concealing a litter box in a small apartment might pose challenges, it can contribute to your cat's comfort. Consider using an enclosed litter box to maintain cleanliness around it.
By adhering to a routine and engaging your pet with entertainment, you enhance the probability of receiving your security deposit back when you eventually move. Take proactive steps now to ensure a delightful living experience for both you and your faithful companion in your new pet-friendly apartment.
Caprock Apartment Homes
, the premier apartment complex on the west side of El Paso. With luxurious amenities and an affordable price point, we have everything you need for a comfortable and convenient lifestyle.
Imagine waking up in your spacious apartment, taking a dip in our sparkling pool, and relaxing in our racquetball court.
At Caprock Apartment Homes, the possibilities are endless. Don't miss out on the opportunity to make this your new home. Give us a call to schedule a tour and see for yourself all that we have to offer. We can't wait to welcome you to the Caprock community!