Tips For Furnishing Your Apartment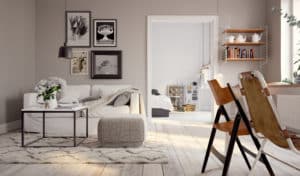 Given the current economic climate, most millennials are opting to live in apartments rather than try and get a home. With this in mind, we thought we'd dish out a few tips for making your apartment space feel like home. 
Discover Your Theme
Before you start buying furniture, plan out what you'd like the theme of your apartment to be. Maybe you love a traditional, country feel, or you want a chic modern decor. Perhaps you adore bright colors, or have a more muted approach to the tones of your apartment. Whatever the case, have a rough vision for your apartment. That way, once you're fully furnished, you'll appreciate your realized vision.
Measure, Measure, Measure
Before you purchase that sectional you've been eyeing, make sure you have the space for it. It helps to just measure all parts of your apartment so you'll have a good sense of how much space you have. Taking a tape measure to the furniture store would also be a great idea, instead of trying to guess and risking having to return the furniture later.
Use Social Media
Social media is a great tool to find ideas. Pinterest, in particular, is something we use for all kinds of ideas for just about anything. Food, tattoos, arts and crafts, and just about anything else can be found on Pinterest; use that for inspiration. You can blend ideas together and make something unique to you. 
Find Your Style At Caprock Apartments 
Here at Caprock Apartments, we have great units at great prices. That means more money to make your space unique to you. Contact us today to make Caprock your home!