How Caprock Apartments Stands Above Other Complexes in El Paso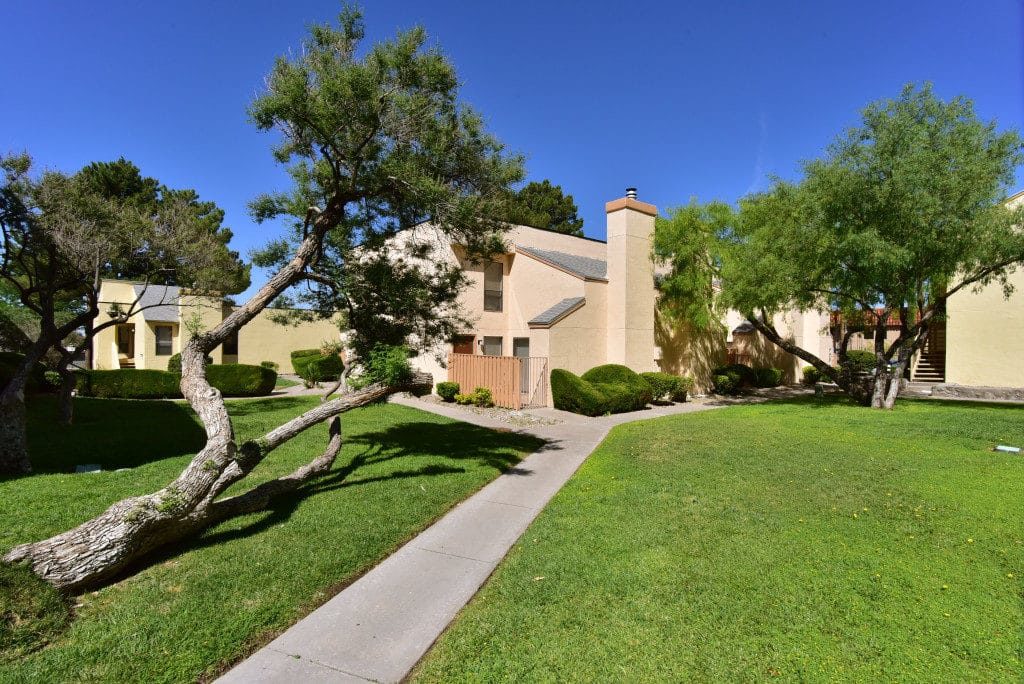 Finding a place to live can be a daunting task. Whether you're going to college and living on your own for the first time or you have a family of four, Caprock Apartments can help. As far as apartments in El Paso go, Caprock is among the best. From one-bedroom apartments to two-bedroom townhomes, we have great options available for everyone. Best of all, we offer incredible amenities and luxury living accommodations all in the monthly cost. So, how do we set ourselves apart from other apartment complexes in El Paso? It's simple, we care about each and every one of our tenants! Keep reading to see why we're the best choice when it comes to apartments in El Paso.
The Floorplans
Caprock Apartment units come in one-bedroom and two-bedroom options. Today, we'd like to highlight our one-bedroom options. Learn more about our floor plans!
561 Square Feet, One Bedroom, One Bath
At Caprock Apartments, we strive to have options available for everyone who's looking for a new place to live. Our one-bedroom floorplan, for example, boasts a large living room, full kitchen, full bath with tub, and a separate bedroom with vast closet space. This option also includes a relaxing patio/balcony where you can entertain friends or enjoy the morning. At 561 square feet, this one-bedroom option is a cozy, affordable option for individuals and small, young families alike.
690 Square Feet, One Bedroom, One Bath
If you're looking for a bit more room, then our 690 square feet apartment might be just the thing! This floorplan is very similar to the 561 square foot option, except that this one has a dedicated dining room space, which can accommodate any upcoming get-togethers! 
760 Square Feet, One Bedroom, 1.5 Bath Loft
Lofts are great affordable apartment options for those who want a bit more of an open floorplan. Our lofts include a fireplace, a large patio, and a beautiful living space on the first level, as well as a half bathroom. Upstairs, you'll find a spacious bedroom with a large bathroom and a spacious closet. At 760 square feet, this loft is a luxurious, yet affordable, choice in El Paso!
The Amenities
At Caprock Apartments, we understand a great and affordable floorplan isn't everything prospective tenants are looking for. That's why we go above and beyond by providing excellent amenities to make sure our tenants live as comfortably as possible. Amenities can make or break a prospective tenant's decision. Let's delve into what we have to offer!
Laundry Facilities Available 24/7 and Some Units Have W/D Hookups
Whether you're living on your own or you have a family of four, it's necessary to do laundry on a regular basis. So, when looking for a new place to live, one of the first things people ask is about the laundry. At Caprock Apartments, we give our tenants many options. With laundry facilities available 24/7, you'll be able to take care of your laundry needs whenever you so please! Many units come with washer/dryer hookups, as well, so you can take care of your laundry at home. If you're interested in renting a unit with the right hookups, then let us know.
Refrigerated Air Conditioning Standard in Every Unit
For most of the year, El Paso is a dry, hot city. Due to the Sun City's low humidity, it's no surprise why evaporative cooling (also known as "swamp coolers") are so prevalent in the area. Although swamp coolers tend to be seen as more energy-efficient, they're also not as reliable as they don't work as well if the temperature outside is more humid than dry. This can be incredibly uncomfortable, especially during the humid and high-heat days of spring. Instead of worrying about having an unreliable swamp cooler, you can live a comfortable life at Caprock Apartments! 
Every single unit has refrigerated air conditioning, which means you'll be able to feel cool and comfortable with the push of a button. Also, swamp coolers require homeowners to open a window in order for the system to work. This, understandably so, can be quite a bit unsafe, especially if a window is left open throughout the night. Thankfully, with refrigerated air, you won't have to worry about cracking the window open for some respite from the heat.
Move Into Your Dream Apartment, Today!
We've barely scratched the surface, as far as our amenities and floorplans go. One thing remains true, however, if you're looking for the best place to live in El Paso, then we welcome you! Caprock Apartments is proud to be known as one of El Paso's best apartment complexes. Visit us today and we'll show you the units we have available. We know you'll fall in love immediately. If you have any questions about promotions or rates, then give us a call at your earliest convenience. Remember, when it comes to apartments in El Paso, no one comes close to Caprock!