Even Small Spaces Deserve Some Decorating Fun

If you live in a small space, you understand the challenges involved. But you can make even the smallest apartment your own. The following 10 design tips will help you make the most of your small spaces – with maximum functionality and panache!
Paint Furniture, Not Walls
If you cannot paint the neutral walls in your apartment, paint your furniture instead. Painting furniture the same color is also an excellent way of disguising pieces that don't exactly match.
Employ Metal Shelving and Baskets in the Kitchen
Placing metal utility shelving in the kitchen gives the space a sleek, industrial look. Add baskets to make storing pots and pans neater and easier to access.
Add Color with Area Rugs
You can create a custom look in a small room by placing an area rug on the floor. In this case, a small room is an advantage, because an area rug will cover more space at a fraction of the cost of carpeting.
Turn Your TV into a Focal Point
A large wall-mounted TV makes an excellent focal point for a room. Place a table or bookcase beneath it and add books or knickknacks to complete the look.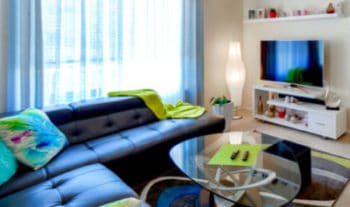 Create a Faux Entryway with a Bookcase
Install a bookcase next to your entryway as a receptacle for umbrellas and other outdoor gear. By removing at least some shelves and installing hooks, the unit can also serve as a coat rack.
Add Luxury with Drapes
Adding stylish drapes gives a room color and adds elegance. You can even hang curtains where there are no windows for added drama.
Daybeds and Futons Serve Double Duty
Fold-out sofa beds are notoriously uncomfortable. A daybed or futon provides a much more restful option for your guests – and stylish seating during the day.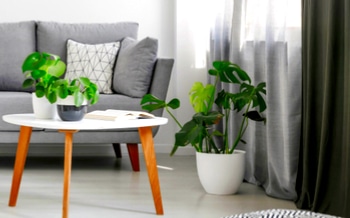 Stash Hampers in Strategic Spots
Place a hamper by the door for wet umbrellas. Hampers placed by couches or chairs allow for a quick pick-up of the kids' toys or other clutter when unexpected company arrives.
Throw Pillows Add Color and Comfy Seating
Add throw pillows to a couch or chair for an inexpensive burst of color. Large pillows make comfortable sitting spots in an informal living room or bedroom.
Place Furniture at Odd Angles for "Found" Storage Space
Place chairs or couches at an angle in a corner of the room. The space behind the chair or couch then becomes a convenient, hidden storage space.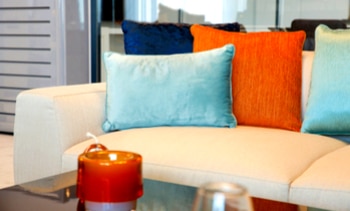 Call Us Today
To visualize your decorating ideas in our units and schedule a tour of Caprock Apartments!