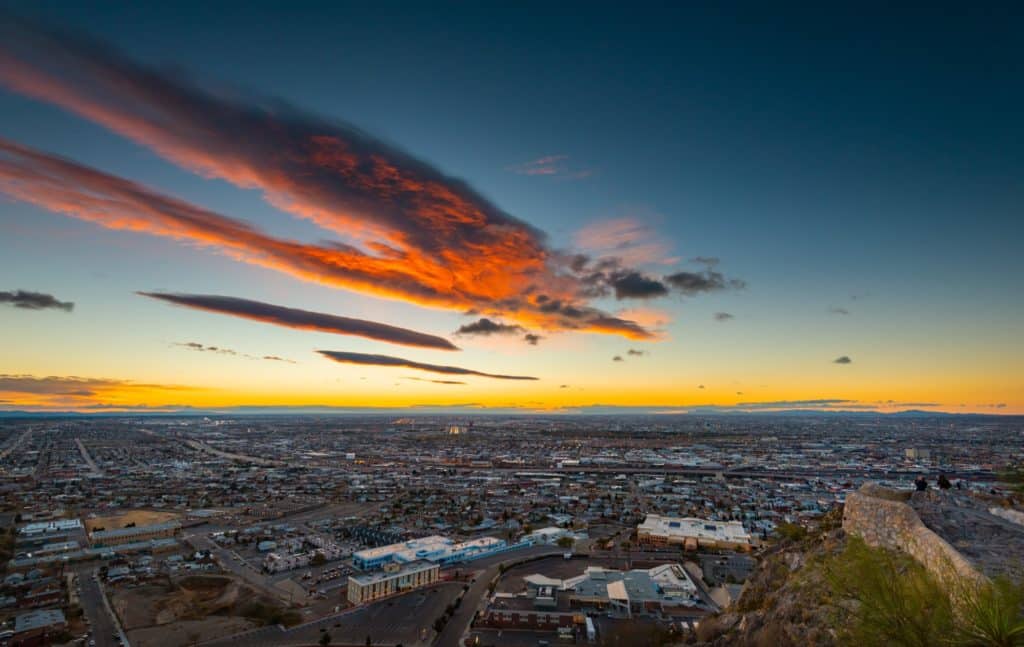 Border cities have unique personalities. El Paso sits at the westernmost tip of Texas and shares several ports of entry with Mexico. Not only is the desert landscape of west Texas different from some of Texas' other metroplexes, but the city of more than 600,000 people also shares hundreds of miles of border with Juarez, Mexico. People in El Paso can drive on highway 365 (otherwise known as the border highway) and look right into Mexican neighborhoods on the other side of the river. In El Paso, 131 miles of border fence were built in the early 2000s.
In other parts of the city, the river is the main separation between the two countries. Aside from that, El Paso has a rich history, as it was once an important stopping point for travelers going West during westward expansion in the early 1900s. It had a reputation for being a city of rebels and outlaws. This meant El Paso has had its fair share of historical characters pass through its cactus-ridden lands. So, if you are renting an apartment in the city, here are a couple of facts to help you get to know the city. 
#1 El Paso has 4 Land Ports of Entry from Mexico 
Texas shares a 1,254 mile-long border with Mexico. These border entries allow for the crisscrossing of goods between these two sister cities and facilitate the passing of hundreds of commercial, vehicular, and pedestrian traffic. The land ports consist of 6 bridges, two of which are railroad bridges for commercial and trade purposes. The city owns three of the four vehicular bridges. According to the comptroller of Texas, most of the traffic occurs on the Ysleta-Zaragoza or the Bridge of the Americas. The bridges generate billions of dollars in revenue for the city. Thousands of people cross the border every day to attend University, college, or work in El Paso while living in Mexico. Long lines often form at the port of entry and create traffic on both sides of the border. 
The main vehicular points of entry include:
Paso del Norte Bridge (city of El Paso)

Good Neighbor Bridge (city of El Paso)

Ysleta-Zaragoza Bridge (city of El Paso) 

Bridge of the Americas

BNSF Railroad Bridge

Union Pacific Railroad
#2 A History of Native Peoples, Explorers, and Missionaries
The history of the region begins with native peoples and continues with Spanish explorers, travelers, and even Apache raiders. In A.D 1200, people lived in pueblos, relied on the land, grew crops, and survived by trading with other nearby peoples. Spanish explorers led early expeditions to the modern-day El Paso area. One of the most famous in the area is the Spanish entrada (entry) of Don Juan de Onate. The expedition was meant to find riches but also to convert the native peoples into Christianity. Onate led 400 soldiers, families, and thousands of cattle across the Chihuahuan desert. Onate's expedition would lead a treacherous journey that would lead him to San Elizario, Texas, where a mission still stands today.
The area of El Paso became known as the "El Paso del Río del Norte," or the pass of the north. For hundreds of years, it would serve as the Spanish passageway and gateway to the west. The region of El Paso would become an important point in trading and communication routes. In the early days of the region, Apache raids became commonplace until Mexican and American forces defeated them. A smallpox epidemic would ravage the area in the 1780s and not be quelled until the vaccine became readily available. El Paso would become part of the newly established Mexican state of Chihuahua in 1829. Because of its geographical location, El Paso would inevitably become a center for trade between Mexico and the United States. 
#3 A Site of Famous Wild West Brawls, Rebels, and Exploration 
When you rent an apartment in El Paso, you'll find that there are plenty of ways to immerse yourself in the history of the city. Downtown tours will take you down to some of the oldest buildings in the city, where you can walk the same streets that held famous gunfights. El Paso had its fair share of saloons in its early days, as many people passing by stopped in the city.
One of the Old West's bloodiest killers, John Wesley Hardin, was killed by an off-duty policeman in downtown El Paso. Hardin was famous for killing his first man at the age of 15 and more than 20 more during the next decade. After he was sent to prison for killing a Texas sheriff, Hardin dedicated himself to studying law while behind bars. After his 14 year sentence, he emerged looking for a new life. Once released, he settled down and tried offering his legal services as an attorney. He relocated to El Paso, where there might be more work for him. He and El Paso sheriff John Selman did not see eye to eye. One day Selman walked up to Hardin without saying a word and shot him dead with one shot. It created quite a stir in the town. 
Knowing a little bit of the city's history might just give you a new perspective about how El Paso grew to be the unique border city it is today! And this is just the beginning.
Ready to Rent an Apartment in El Paso? Find Modern Floor Plans and Comfort at Caprock
Renting in El Paso is a great way to get to know the city while living in a safe, secure, comfortable, and pleasing environment. Whether you have lived in El Paso before or are new to the city, the experience of our beautiful facilities and apartments will set you on a new path to living the way you want to live. Caprock Apartments have everything you need with spacious and modern floor plans. 
Are you looking for an apartment in El Paso? See what we have to offer. Call Caprock today.